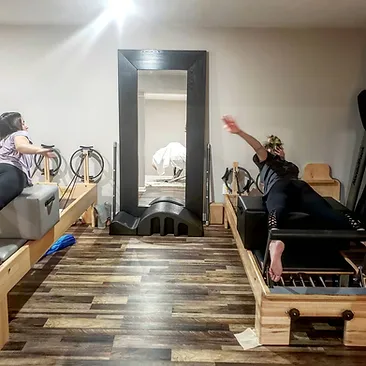 Pilates Near Plymouth, MI | Wise Body Solutions
If you are interested in Pilates near Plymouth, Michigan, look no further than Wise Body Solutions. Pilates values education, quality movement, and range of motion above all else. Learning how to move properly can improve your life in so many other aspects besides exercise. You can improve your posture, balance, and everyday tasks through Pilates, which in turn will enhance your ability to prevent and recover from injury.
Pilates focuses mainly on your core, combining strength and mobility skills using body weight or light resistance exercises. These exercises teach you to be aware of your movements and balance, an undervalued skill.
Though many people choose Pilates as a way to gain muscle and improve their appearance, the skills you learn will improve your overall relationship with your body for a lifetime. Schedule your Pilates session today.
At Wise Body Solutions, we offer two types of Pilates classes: Private sessions and Group classes.
The Profound Benefits of Pilates
No matter your reason for choosing Pilates, the results speak for themselves. We design sessions at Wise Body Solutions to benefit the mind, bodies, and souls of our clients. Whether you are interested in gaining strength, improving your appearance, or preventing pain, Pilates offers benefits such as:
Pilates makes your movements more intentional and efficient overall. Once you start to feel the benefits of moving with ease, you will never want to go back!
Why Choose Wise Body Solutions
At Wise Body Solutions, helping clients reach their goals is our number one priority. We want you to feel encouraged and challenged with each session, allowing you to grow stronger and healthier at your own pace. The intimate nature of our classes allows for individual attention, even in group sessions.
With years of experience, certifications, and modern Pilates equipment, we have everything you need to guide you on your fitness journey. Our in-home studio is located in Westland, MI, which is a perfect place for anyone with an interest in Pilates near Plymouth, Michigan. You can also receive other Wise Body Solutions services like massage, bodywork, and Rolfing at REACH Rehab + Chiropractic, located in Plymouth.
Our clients include men and women of varying ages and abilities who continue to return to our studio time after time. If you visit us, you will soon understand why! 
Wise Body Solutions | Pilates Near Plymouth, MI
If you are searching for Pilates in Westland, MI, come visit us at Wise Body Solutions. Our customized classes will have you feeling stronger, more confident, and more balanced than ever. 
The popularity of Pilates in athletic communities is easy to understand. For injury recovery, physical aesthetics, or just overall health, Pilates is the ultimate choice of exercise.
Contact Wise Body Solutions at (734) 740-9266 to schedule a consultation or Pilates class today!