I'm pretty sure thats the theme of our last two vacations.
Thankfully, not yet – but I think we're tempting fate at this point. Read on to learn more about this trip and all the moments a normal person would stop and think, "this is a bad idea".
(You'll have to ask in person about our previous "—but did you die" trip to Nevada over Labor Day 2022.)
We left Detroit on 10/16/2022 for LA. We met up with a friend and experienced the absolute weirdness that is LA. The basic gist: we went to the beach (a very LA thing to do) and joined an impromptu drum/dance circle while watching a parade of neon lit bikes roll by. We also watched a bodybuilder dance to techno at muscle beach, while working out. Yep, it was everything bizarre that you'd expect from LA.
The next day we arrived in Hawaii. Kauai to be exact, the northern most of the 8 islands. Our entire purpose of coming to THIS island was to backpack a trail known to be one of the most difficult and deadly trails in the world: The Kalalau trail on the Nepali Coast.
(Is our trip theme starting to make sense yet?)
The trail is 11 miles long (though, theres an additional 2 miles to get to the trail…), climbs and descends about 6500 feet of elevation and ends as this insanely beautiful beach. It's by permit only and they often sell out within hours of being released (only 90 days in advance). We booked two nights of camping on the beach.
So, this insane trail: It's a shear cliff on either side of you, that, during most parts of the trail could result in a 400+ ft plummet to your death. In some areas the trail is only 12-16 inches wide. Some portions are rock, some dirt (or in our case, very slippery mud).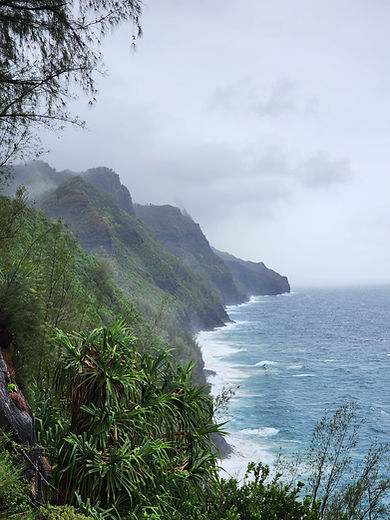 So, night two in Hawaii, the night before our scheduled hike we looked at the forecast. Rain. We decided to hike anyway, we had been planning this for months and, hey it's Hawaii. It always rains, right? Plus, it only called for 1/4 inch. That's nothing—a mist at best. We thought, "I've done dumber things, a lil mist will be nothing and very well might be refreshing!"
Well, maybe a mist is what it called for but what we got was the sky opening and dumping everything it had.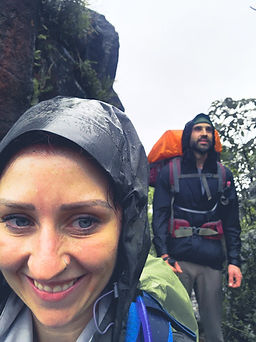 We were drenched to our underwear despite our rain gear and things were starting to feel more and more risky. We heard a rockfall at some point and we were crossing a bunch of impromtu waterfalls where rain was cascading down the side of the cliff and running across (or down) our trail. I had actual puddles inside my waterproof boots. I finally called it quits when we watched an oncoming hiker slip and nearly lose his footing near one those plummet-to-your-death cliffs.
We got about 5 miles into our hike (we're not actually sure, GPS wasn't super accurate) before we decided to turn around.
We hiked the 5 or so miles back to our car and the rain didn't stop once. When we got back to the trial head it was covered in police tape. DNR shut the trail down for safety concerns. Ya think?
This was our first "—but did you die?" moment.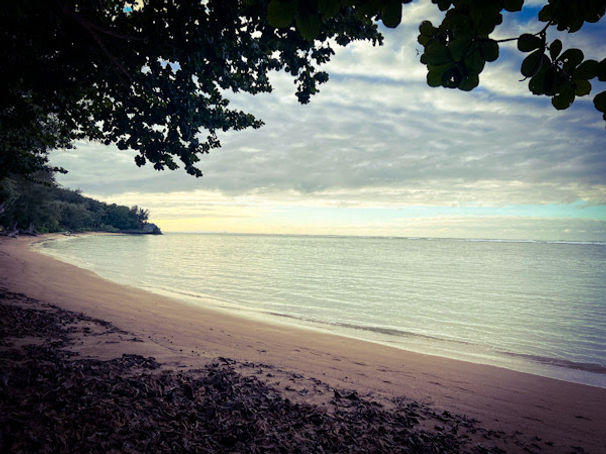 Thank God that we had a hotel room already booked (due to these annoying "minimum of 3 night" booking rules). In total we hiked 14 miles and felt so defeated that we didn't get to sleep on that beautiful beach but my God a hot shower was so amazing. I ached in places I didn't know existed. (And that's saying a lot, given my job)
Since we had permits to camp Kalalau beach, we didn't have a hotel planned for night four. We woke up morning 4, completely sore and exhausted yet we repacked our normal trip clothes and our still wet camping set-up. At checkout we were gifted some hard seltzers by another couple leaving the island as we set off to figure out our accommodations for the night.
Plot twist: after checking every conceivable hotel booking site we learned there was no vacancy on the entire island that night. There was ONE room (I'll leave the hotel unmentioned), costing $650 for a 14 hour stay. Check-in at 4p, check out at 9am. Hard pass.
Well, necessity is the invention of creativity. Michael looked up campsites and we booked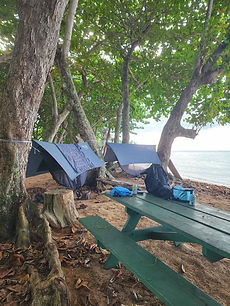 ourselves a beautiful $6 spot on the beach between some trees. We spent the night under the cloudless, starry night and got drunk off the free seltzers.
We spent another four nights on Kauai and hiked every day (short trips) between rain storms.
The Big Island
On our 8th day flew South to the Big Island. The rain followed us.
In fashion of "— but did you die?" we rented an off-roading Jeep Wrangler anyway. (Fitting, right?)
Our first full day on the Big Island had great weather and we took advantage of it by off-roading the southeastern coast. We saw the both the black and green sand beaches, swam with Sea Turtles and visited the Southernmost point in the United States. The green sand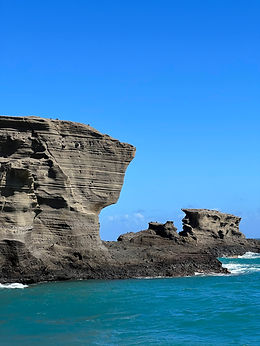 beach was our favorite, inpart due to having to hike-in or have a 4×4 vehicle to get there. It has significantly less crowded and had significantly more sea turtles than the black sand beach (though, it was really cool to see and feel that black sand!)
The next morning we went on a cocoa farm tour and got to taste some of the most amazing small batch chocolate. I'm still dreaming about it! It was ~$150 per lb so we (sadly) didn't bring more than a few ounces back with us. (Going to the Big Island? Check out Lavaloha for a great tour!—and maybe bring me back some of the sea salt dark chocolate 😉)
That afternoon we drove over to Volcano National Park. Our goal was to sight-see for a bit before the sun went down, then once it got dark we planned on hiking to the lava viewing point.
Because we're us, and our trip theme says it all: we started a 4 mile hike at 4:30 pm. We actually did think this out — if we averaged 3 miles per hour, the average walking pace, we'd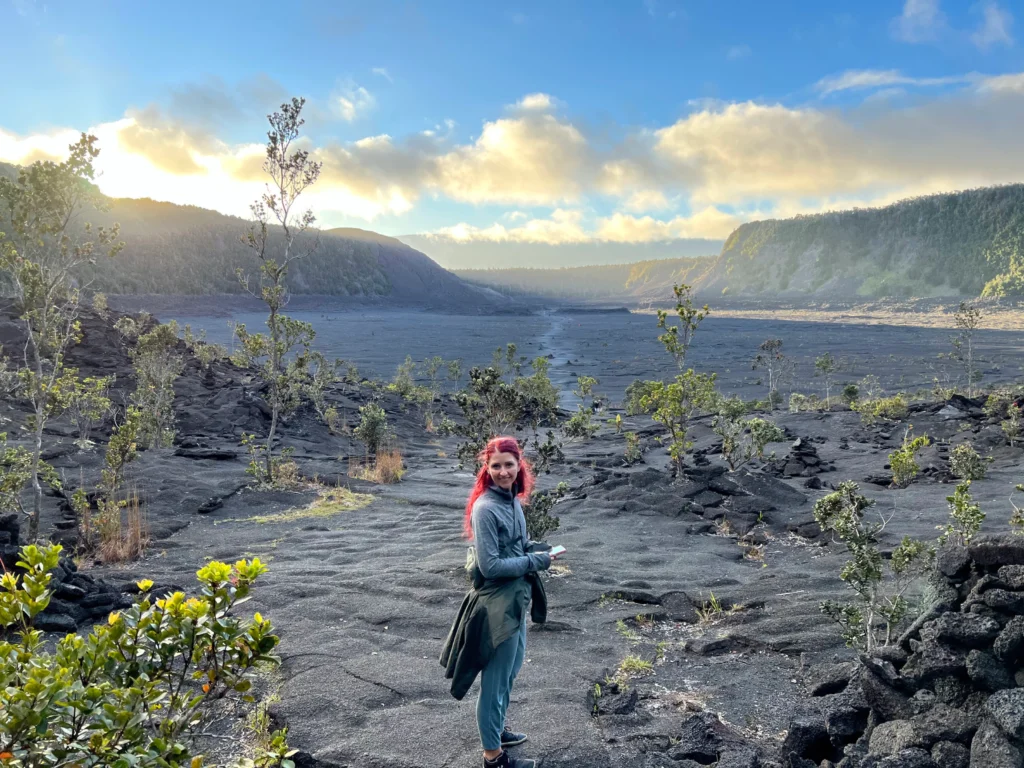 need ~80 minutes to make the trip putting us back just in time to get in the car and head toward the lava view point before the 6pm sunset.
However, we forgot to consider how much time it takes to go up and down elevation. We did end up finishing our hike in time, without the use of phone flashlights, but it was close. The last 1/4 mile was nearly a run since it was getting so hard to see. We did end our night with seeing the lava, which was a really cool experience. (No, you couldn't feel the heat— the viewing point is over a mile from the lava, as the fumes are highly toxic and smelling/feeling them would result in some major heath impacts).
Our remaining two days on the island were intended to be beach days and snorkeling. While we did get to swim with giant Manta Rays in the dark (another "—but did you die?" moment), both days were overcast with on and off rain showers and we had 0 chance to snorkel. We went for massages (if you're ever on the Big Island check out Malama Pono in Kona and get a 90 minute Lomi style massage!) where our lovely therapist said, "this is such a special day for us — we don't normally get rain!" I rolled my eyes and thought, "if only you knew how many times we've heard that in the last 10 days….". None-the-less, it was an amazing massage and I cant hold that against her.
Our final big event was to the top of Mauna Kea, the tallest mountain in the world. The trip requires a 4×4 vehicle and the accent is almost a 20% grade. No joke, the park rangers make sure your vehicle (and you) can handle the accent/desent because it's so dangerous. I spent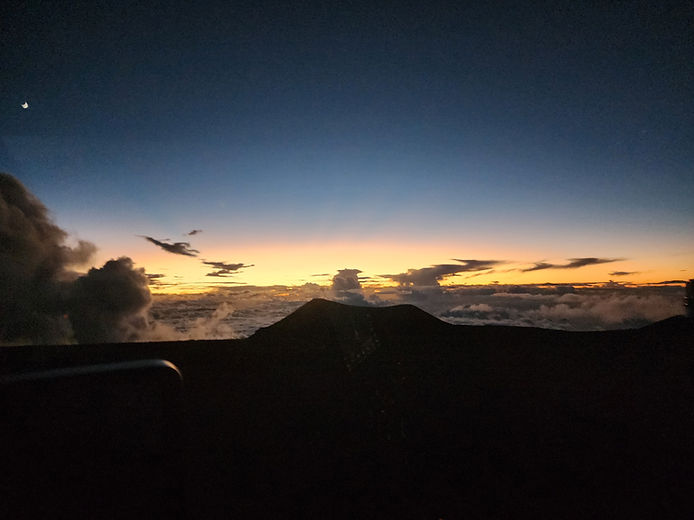 the 35 minute drive to the top hyperventilating and gripping every available grab bar as we bucked over potholes on an unpaved road with no guardrail. The way back down was about 150% worse, with a train of cars trying not to ram each others, burn out their breaks or fall off the side of the mountain top in pitch black darkness but it was the absolutely most breath sunset I've ever seen. What a way to round out our big trip.
Finally, it was time to take off. Next stop: Vegas.
…Yes, Vegas. The Hawaii portion of trip was a piggy-back on a previously planned trip to Vegas for my brothers wedding celebration dinner. Someone told me their experience of Vegas was a lot like being thrown in a broken, loud washing machine filled with vodka and dirty shoes. I felt that deep in my soul.
Finally, we're back home. It took me a solid two weeks to adjust to that 6 hour time change but I wouldn't take it back, even all the moments I wondered if I was about to die.